The project space is a place that offers talks, performances, exhibitions and film screenings. Its aim is to create an alternative place of interest to Letchworth Garden City, that can invite visitors from the town or outside looking for inspiration.
News 2022
Open Call - London Based Artists
EASTCHEAP CALLING LONDON

Since our last open call for Hertfordshire based artists, Eastcheap Projects is now looking for London based artists. We are seeking an Artist in Residence from 21st February - 3rd April 2022 to work in the project space in Letchworth Garden City, Herts.

Whilst here, you will have access to the space and the opportunity to research and respond to Letchworth, learning about its early radical ethos, ideas of utopia, sustainable living and the Garden City movement.

We are looking for applicants to push the boundaries of their practice, echoing the early radical nature of the town.

The above dates include:

- Research and Development (21st Feb - 20th Mar)
- 2 week solo show of the work produced during the residency (21st Mar - 3rd Apr 2022)
- During the residency, the selected artist will meet other artists based at Eastcheap Studios (located in the floor above the project space) with an informal discussion about their practice and work produced during the residency.
- The selected artist will be paid a single payment of £500 for the residency.


If you are an artist based in London and would like to apply, here are the application details:

Your application should include (within a single PDF file)

1. Artist Statement
2. CV
3. Up to 5 images + Descriptions
4. A short piece of text (no more than 500 words) as to why you are interested in the residency and how it will benefit your practice.

Send this to : eastcheapspace@gmail.com


Deadline for applications : 7th February 2022

Archive
Artist in Residence Anna Hart
'Even The Lightest Footprints'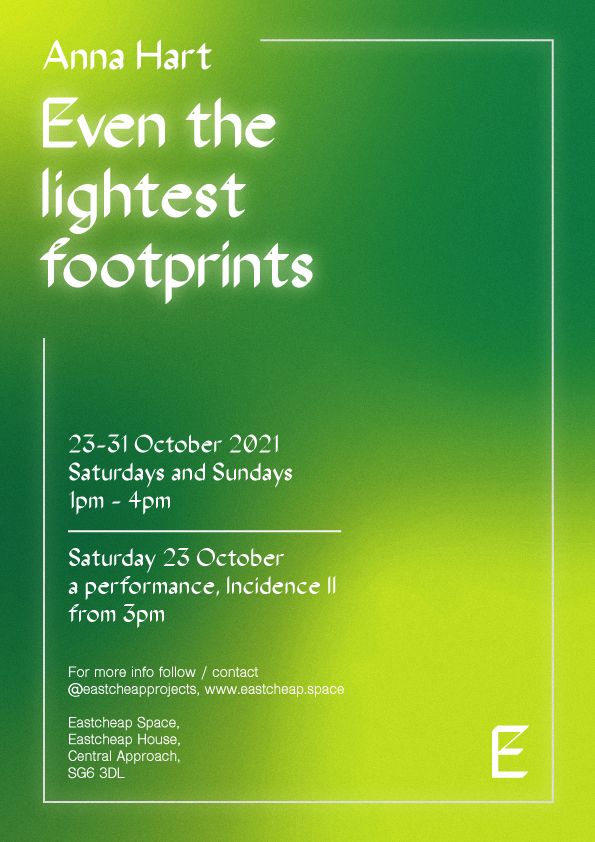 An exhibition of works made in response to roaming a garden city in the lead-up to, and during, a global pandemic.
Inspired by late nineteenth century atmospheric treatments including air baths and the practice of early Letchworth settlers to roll in the morning dew, a body from elsewhere seeks solace in public spaces across the town.
Artist in Residence Tom Eke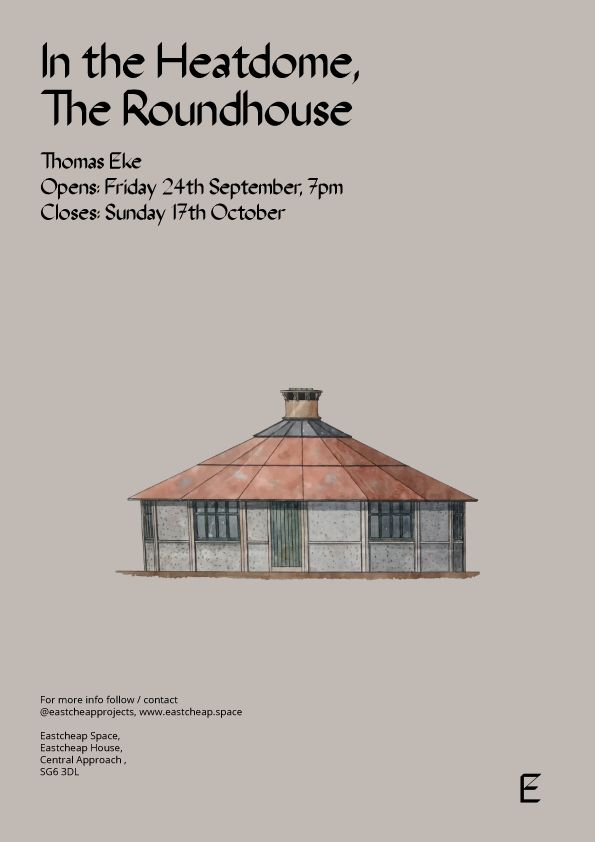 Tom Eke had taken part in an online residency over the months during lockdown. We have given Tom the opportunity to showcase the research he has done primarily with the structure of the 'round house' with an artists talk and a walk and discussion around the Garden City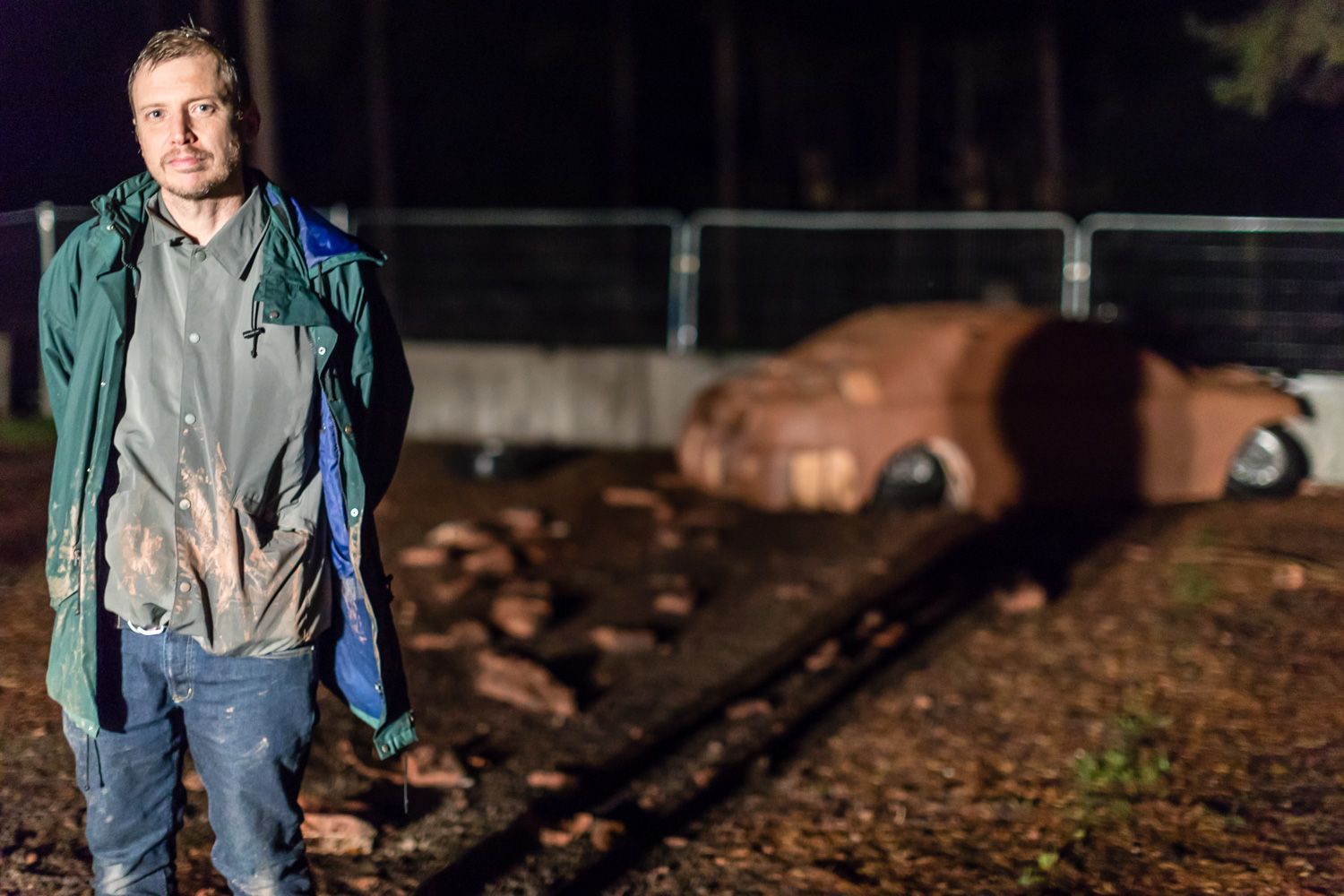 Eastcheap Projects kindly welcomes you to an evening with Ceramicist Keith Harrison.

Keith Harrison's practice is involved with the physical transformation of materials, to unpredictable effect, in a series of process-based public experiments. Previous works include a Play-Doh pumping soundsystem with musician Beatrice Dillon, launching a full-size clay Rover 75 off a monumental ramp in Cannock Chase Forest, submitting a ceramic tiled structure to the grindcore onslaught of Napalm Death and a live choreographed interruption in the life of Preston Bus Station involving 32 buses performing a series of sequenced movements to a soundtrack by Preston Field Audio. Harrison was previously the recipient of Gasworks' International Fellowship at KHOJ, Delhi and Ceramics Resident at the V&A Museum. Keith also won the Jerwood Open Forest.

Keith will be exploring his practice with us and also discussing the importance of artist led spaces.
'In the Heavens, on the land, underneath it, behind my eyes'
The second installment of the Cloud 9 residency programme kicked off with Jack Anthony Taylor, where Jack developed a series of paintings over the course of two weeks. Due to the current national lockdown, the exhibition element was moved online, and can be viewed via our Instagram @eastcheapprojects.
Jack was interviewed about the residency by another of our studio members, Krystina. The interview can be read
here
.
'Barriers and Glimpses'

December 7th - 20th 2020
The Cloud 9 Residency programme commenced with John Vincent's 'Barriers and Glimpses' exhibition, which opened on the 17th Dec showing 3 interrelated video installations developed during the residency.











Starting December 2020 and running through to April 2021, Eastcheap Projects are running a series of residencies (funded by the Arts Council) for Eastcheap Studio members.

Eastcheap Projects will also widen this opportunity to two additional artists - living or working in Hertfordshire - to apply for a two week paid residency (two weeks per selected artist) at the Eastcheap Project Space in Letchworth Garden City.

(DM for further details: @eastcheapprojects)


'Private View'
June 16-30th June 2020
Lucie Macgregor: After The Rain
11th January 2020
Eastcheap space invites you to our artist in residence Lucie Macgregor's opening exhibition 'After the rain'.
Lucie (d.o.b 1996) a recent graduate from Central Saint Martins College of Art and Design has been offered the opportunity to spend time in Letchworth Garden City learning and researching about the original ethos of town and the 'Garden City Movement'.
Lucie has created a series of artworks ranging from ceramics to mixed media.
We are open on Fridays and Saturdays during the exhibition from 2-5pm
October 17-20th 2019
Artlicks Weekender.
Exhibition: GARDEN GASP!

astcheap Studio Artists are partaking in an exhibition for Artlicks weekender. The theme for this years Artlicks is interdependence. The artists will be showing currents works at ASC Gallery near Burgess Park South London. PV will be on Thursday 17th Oct from 6-9pm. Check out the Artlicks website for further info.


Sept-Dec 2019 is home to our new artist in residence Lucie Macgregor.
Artist In Residence Yarli Allison
April-May 2019 is home to our new Artist In Residence Yarli Allison. Yarli is a Hong Kong-Canadian Born, London-Based Artist with a mulitdisciplinary approach that traverses sculpture, performance, digital, film, drawing and Installation. Yarli will be spending time in Letchworth, drawing inspiration on what our rich town has to offer.
Yarli is taking over our Instagram during her stay.
The project space will be accessible by appointment so please contact us either by email or Instagram.